2016.03.16 10:43:47 (*.123.35.13)
63548
세계적인 장신구 웹진인 Art Jewelry Forum에서
10인의 전문가를 통해
올해의 뮨헨주얼리위크에 출품한 전체 전시작품중에서 선정한 10점의 'Best of Best' 에
이요재작가의 장신구 Long Water Skater(Schumuck 2016 출품) 이
선정되었다는 소식 ;
(이하 Artjewelry Forum 기사 -> https://artjewelryforum.org/articles-series)
03/12/2016
For this "Best Of" section, we told our jury members to look for pieces that made their heart skip a beat. We asked them to select an outstanding jewelry artwork that, due to craftsmanship and/or concept, carries its own weight regardless of whether it is placed on a plinth or on a person. We hoped that making the selection in this category would be like choosing only one piece of candy in an exuberant candy shop. In the abundance of 74+ jewelry exhibitions, finding the best of the best was destined to be a delightfully difficult task.
This is the result.
With the participation of Berndt Arell, Klara Brynge, Sally Collins, Mike Holmes, Agnieszka Knap, Panjapol Kulpapangkorn, Nichka Marobin, and Paulo Ribeiro.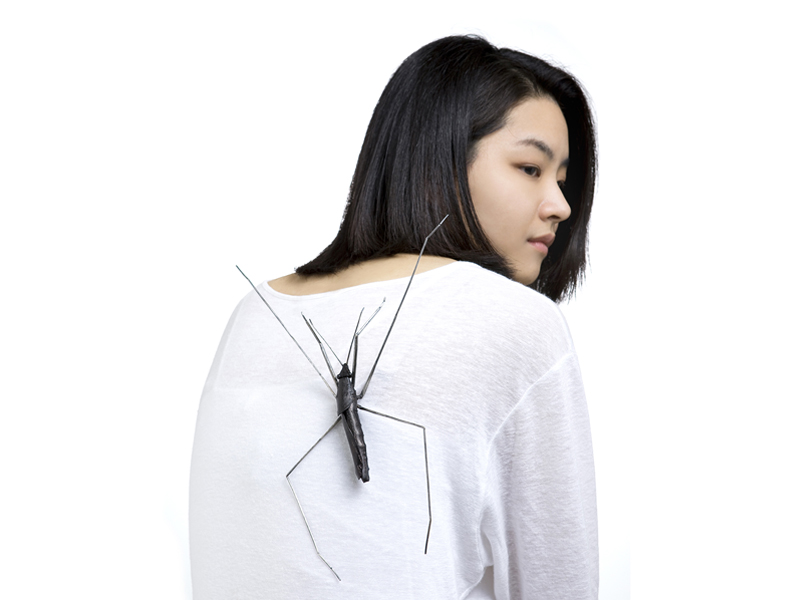 YO JAE LEE, LONG WATER SKATER, 2014
Selected by Karin Roy Andersson,
jewelry artist, manager of Four, and part of team Diagonal (Sweden)
"During the Friday night event at the Pinakothek, a package was suddenly delivered to a woman I was talking to. In the parcel was this brooch by Yo Jae Lee. It is an insect made of silver with a mantle of frog skin and leather. The composition of materials, the size, and the way some elements moved turned it into some sort of beautiful insect-jewel-android. What finally made me choose this piece as my best was the wearer—this super-cool woman wearing the piece on her back."
Seen at the Pinakothek der Moderne, Munich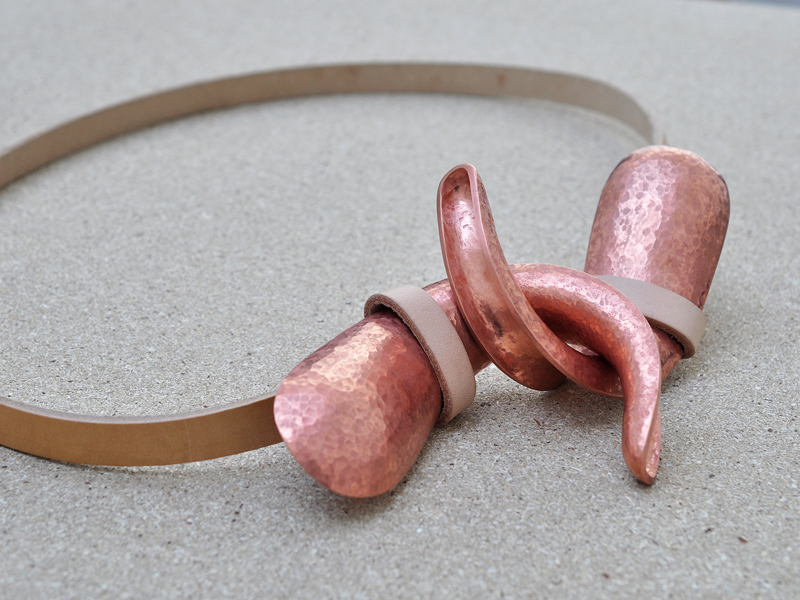 SOPHIE HANAGARTH, FRENCH KISS, 2016
Selected by Sanna Svedestedt Carboo,
jewelry artist, contributing editor for www.klimt02.net, and part of team Diagonal (Sweden)
"A punch in the stomach and a long, desperate kiss. Whip and caress. The soft, fleshy tone of the nude leather along with the knotted copper tongues mesmerized me with its raw, erotic expression."
Exhibited at Everyday Epics, Kunstpavillon, Munich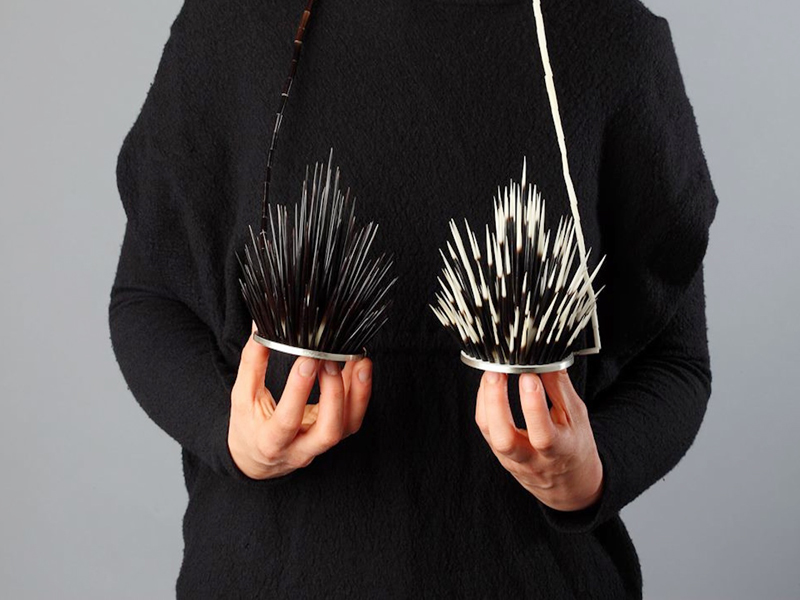 YING CHEN, FORTRESS BESIEGED, 2015
Selected by Berndt Arell,
director of Nationalmuseum (Sweden)
"A strong comment on togetherness."
Exhibited at the Bracelets for Paul & Willem from Gallery Ra exhibition, 3 Stations, Welsertrasse 23, Munich
AMANDA ÅKERMO, SLUGGO, 2015
Selected by Agnieszka Knap,
jewelry artist and curator (Sweden)
"Amanda Åkermo made a necklace for Sluggo—her pet. Images next to the piece show Sluggo wearing it, he seems to be happy. Would I wear this piece myself? I don't know … ! Repulsiveness and ambiguity make this piece intriguing. Åkermo's work shows that there are still taboos to explore when it comes to putting a piece of jewelry on our body."
Exhibited at Contemporary Formulations of Studio Jewellery. The Oslo National Academy of the Arts, Pinakothek der Moderne, Munich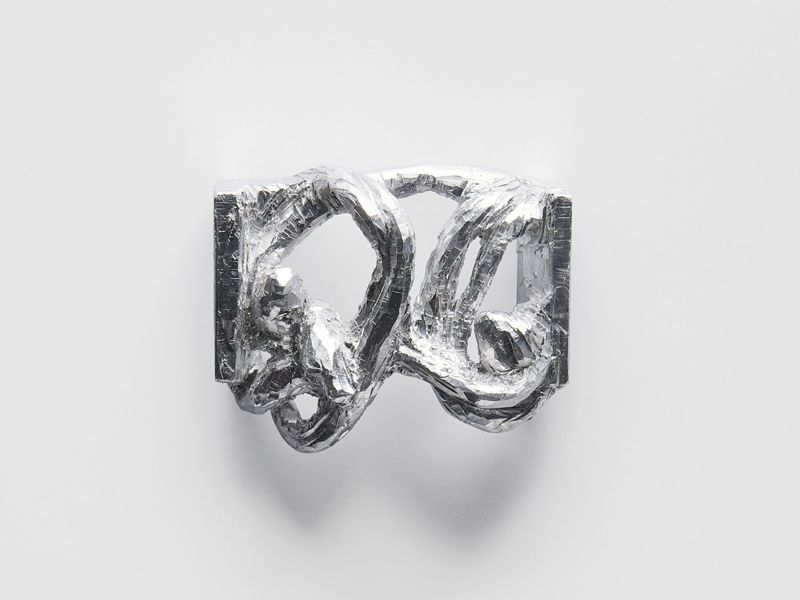 JUTTA KALLFELZ, SPARROWS IN THE HEDGE, 2015
Selected by Klara Brynge,
jewelry artist and lecturer in jewelry art at the School of Design and Crafts,
University of Gothenburg (Sweden)
"Jutta Kallfelz's brooch, Sparrows in the Hedge, is chiselled in aluminum. It is quite small and inside it you look into a moment, something that is happening there on a branch, and now has been captured here and sculptured with ease and precision, so that it does not feel still but on its way and moving. The surface of the aluminum comes alive with the reflections in the cuts from the chiselling, which also gives the brooch a depth and light and shadow play that is beautiful. I chose it because it has the effect on me that I feel like I could look at it everyday."
Exhibited at Galerie Marzee at Frame, International Handwerks Messe, Munich
DAVID BIELANDER, CARDBOARD, 2015
Selected by Panjapol Kulpapangkorn,
jewelry artist (Thailand)
"David Bielander's bracelet is really a stunning piece, it is a cardboard-jewelry, but no, it is made of gold. I am amazed how he manages to play with viewers on ideas of valuable and nonvaluable through his cardboard collection."
Seen at Cardboards, Galerie Wittenbrink, Munich
PANJAPOL KULPAPANGKORN, WIPHA'S PERSONAL COLLECTION (WP02, WP06, AND WP01), 2015
Selected by Sally Collins,
jewelry designer, lecturer, and collector (UK)
"I found this series of brooches by Panjapol Kulpapangkorn hauntingly beautiful and exceptionally moving. The work is based on Panjapol's experiences of his mother's illness, and in particular her struggles with dementia. Such highly personal work was a privilege to see, and what struck me the most was the way the artist talked about his experiences and the pieces with such positivity—it left me feeling a strange mixture of gratitude, sadness, and comfort."
Exhibited at Invisible Wall, 3 Stations, Munich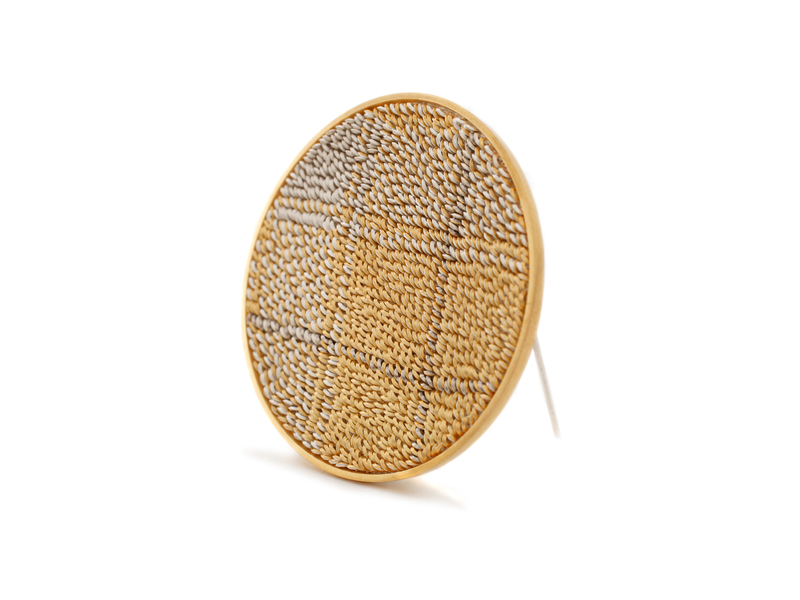 ANDREW LAMB, PLAID BROOCH—LENTICULAR SERIES, 2012
Selected by Nichka Marobin,
collector of contemporary jewelry, art historian, and founder of The Morning Bark (Italy)
"This amazing piece by Andrew Lamb struck me for the mobile surface made by a myriad of tiny little pieces that change colors when viewed, and for the exceptional use of the goldsmithing technique. Whenever you use precious or nonprecious materials, you have to master your own technique: Only from a strict discipline can you reach a high, creative altitude and freedom."
Exhibited at the JAA (Juliane Schölss, Adam Grinovich, and Andrew Lamb), curated by Christian Hoedl, Abitarte Giuseppe Guglielmi, Munich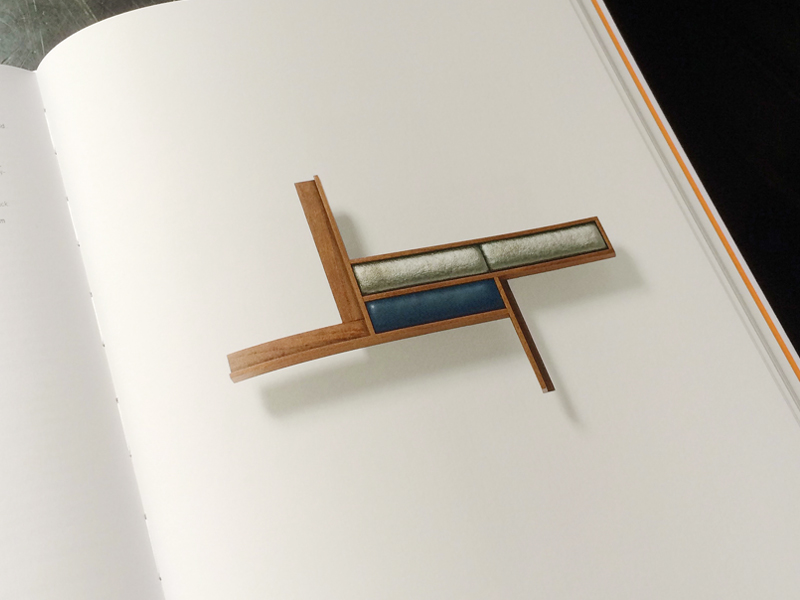 THOMAS GENTILLE, UNTITLED. THOMAS GENTILLE. AMERICAN JEWELER, 2016,
CURATED BY PETRA HÖLSCHER
Selected by Mike Holmes,
curator and manager of Velvet da Vinci, San Francisco (USA)
"Hands down the best work was nearly any of the pieces by American artist Thomas Gentille. This retrospective proves his unerring rigor and spectacular craftsmanship are an inspiration. Congratulations to the Pinakothek der Moderne for mounting this exhibition. Embarrassingly, it will not be available to US audiences, but you can always buy the exhibition catalog."
On show at die Neue Sammlung—The Design Museum, Munich
FEDERICA SALA, UNBEARABLE LIGHTNESS, 2015
Selected by Paulo Ribeiro,
director and founder of JOYA Barcelona Art Jewellery Fair (Spain)
"Fragility and strength are the main concepts of Federica Sala's Unbearable Lightness collection. She creates necklaces that are extremely fragile, but at the same time pushes the limits of the material, as the combination of glass penetrated by stones gives us a poetic vision of the boundaries of jewelry. There are a very few pieces that blow your mind, that make your eyes sparkle, or give you so many different feelings and emotions that you can't explain with words, because they are transcending our self-awareness: This is what I felt when I saw Federica's necklace."
Exhibited at the Kunstgiesserei with 84 GHz, Munich
Coming up next: the 10 Best Newcomers at Munich Jewelry Week 2016!